Pumpkin spice is out in full force, scarecrows wave from mazed cornfields, candy and costumes line the aisles… Halloween is officially here! Time to stock up on cotton cobwebs, carve a grin into your pumpkin and bust a move doing the Monster Mash.
Looking for the most shocking ways to celebrate the spooky season? Have no fear, Loudoun County has plenty of haunting events and seasonal attractions to give you a spine-tingling good time this October. Check out this thrilling array of Halloween revelry — the scary part will be deciding what to do first!
Ready for some PG-13 spooks? Northern Virginia's only REAL Haunted House is not for the faint of heart. Built in the 1800s, the foreboding Shocktober mansion features more than 100 cast and crew to create the ultimate haunted house experience. Whether you're looking for fun and unique weekend entertainment or are hunting for just the right Halloween attraction, you won't want to miss a paranormal night at Shocktober. Are you brave enough to face the horrors around every eerie corner of Carlheim Manor?
DARK NIGHTS & FRIGHTFUL HEIGHTS
FIRST EVER INDOOR HAUNTED ROPES COURSE!! From October 11 until Halloween night every Friday & Saturday night from 6pm – 10pm Summit Ropes turns into a haunted ropes course. They will have scavenger hunts and candy. Scary Fun for the whole family. Limited availability. BOOK NOW to ensure your spot is reserved.
Find out what lurks in the fields of Cox Farms after hours in the Fields of Fear! Scream your way through over 20 acres of the most frightful haunts, including the Cornightmare, Dark Side Hayride, and The Forest: Back 40! End the night with a bonfire and dance party at The Fairgrounds and Fear Games attraction, perfect for lightening the mood…or not!
The haunt features blood-curdling screams, endless scares, and the region's most terrifying scare actors in a 6-8 minute, indoor fright experience. Guests who escape the Madhouse, which will be curated in ChefScape's event space, will exit into the Food Hall, where they can visit The Bar for Halloween-themed drinks or one of ChefScape's many food vendors to create their own drinking and dining adventure.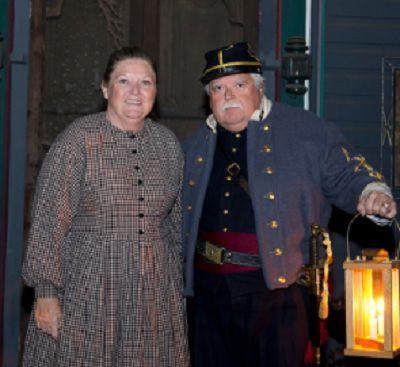 Discover "the Real Nightlife of Leesburg!" The Loudoun Museum's 60-75 minute walking tours take guests through historic downtown Leesburg, VA to various "spirited" locations. You'll be guided to homes & businesses where costumed storytellers will tell ghostly tales of the town. Hear about the widow who fought to keep her house and has never left. (She even helps with the housework.) Beware of the Civil War Colonel who watches over office staff during the day and look out for other spirits that do more than go bump in the night – Boo!
Keep your goosebumps going all weekend long when you book "The Scariest Weekend in Loudoun" stay at The National! Get 2 tickets to Loudoun's Largest Halloween party, Shocktober and more!